NOTE: Due to the changes made to Twitter's "Verification" system shortly after Elon Musk's purchase, we no longer need to speculate about the topic. Check out our post addressing the changes in the link here! The voting for the 'stars' has since been disabled as well.
It's time for yet ANOTHER entry in our newest 'Verified Watch' series, where we seek to find and evaluate users on Twitter dot com who are CLOSE to receiving their coveted Blue Checkmark. Today's subject features someone who is quite different from our previous 3 for several reasons, with the most obvious being the fact that it is our first female entry! While we debate the status of the recently-unverified Angela Belcamino, let's take a look at another "#Resistance" Twitter member who has made quite a name for herself over the years.
Introducing JojoFromJerz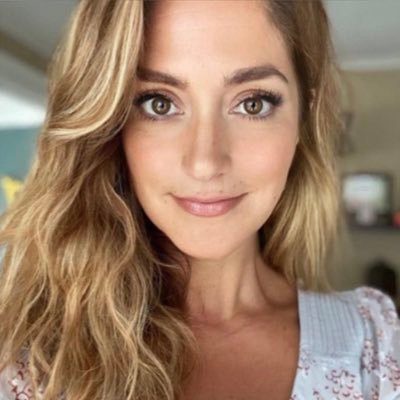 We like to be as transparent as possible here at BCU, so we'll tell you right now that our President had NO idea who this person was upon hearing the suggestion. After seeing a single tweet sample that contained the recognizable profile picture, it became clear that 'JojoFromJerz' was a great candidate for receiving that Blue Check. For those unfamiliar, here's a look at her profile to get somewhat of an idea: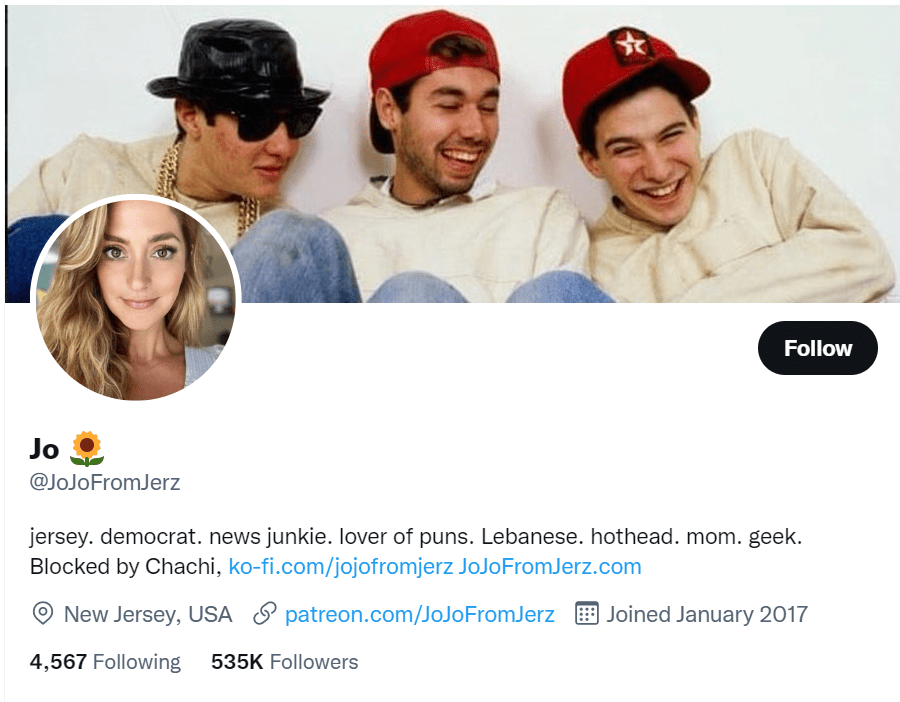 JoJo isn't lying with her bio description either. She is a staunch supporter of the Democratic party and actively follows the news and current events, offering her opinions on many issues on Twitter, TikTok, and even Patreon! Compared to our first 3 users, Jojo seemingly is the most avid supporter of a single party, regardless of any views they may or may not have had. And while this is something that all Blue Checks need to an extent, you'll later see how this somewhat inhibits Jojo's potential as a top-tier Blue Check. For now, let's take a look at some of her tweets to get an idea of her skills and strengths.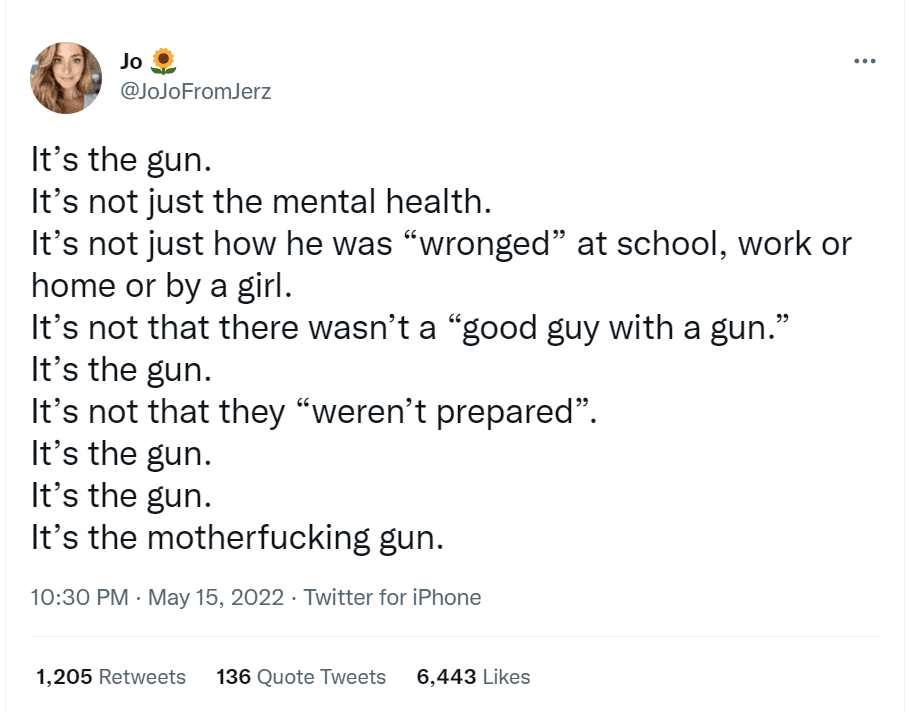 That should give you an idea of Jojo's 'style' if you will. The best comparison we have is "a more vulgar Angela Belcamino with a worse sense of humor and 2x the followers", so take that for what it's worth. On top of that, you may notice that some tweets sound familiar to others you've seen before. That is because they ARE tweets you've seen before that have simply been recylced by her. In the pursuit of that coveted Blue Checkmark, the originality of tweets is something that should not be a consideration. The 'grind' for Jojo doesn't stop at Twitter dot com however, as she also has a presence on TikTok and Patreon. While on TikTok, JoJo plays the role of several different 'characters' in what can best be described as a blend of sketch comedy and satire. See for yourself:
"Becky Sue", which includes a highly original impersonation of an American Southern woman, appears to be the most popular 'character' of hers. Given the audience she has, you could only imagine how much they love this type of content. While this all bodes well for her follower count and other avenues, we have to consider the elements of what makes her a good or bad BLUE CHECKMARK. While there's some overlap, Jojo comes up short in a few areas that others before have not. Let's take a look at her scores.
JojoFromJerz Verified Watch Scores
Pros/Cons and Comments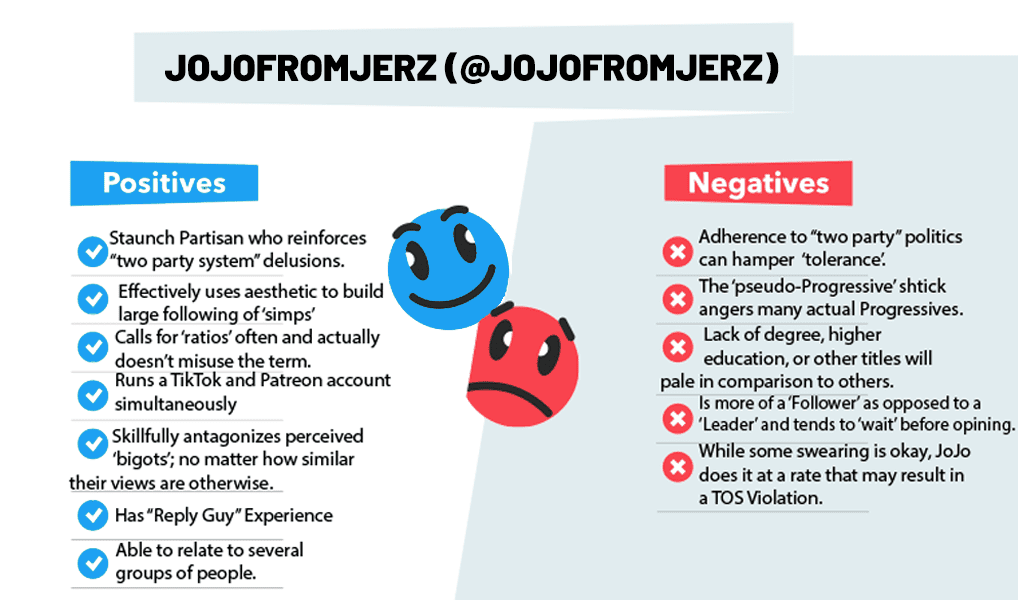 That says mostly everything, but we would like to add on a bit. Specifically with an example of something that an OPTIMAL Blue Check would avoid. It involves a tweet of hers regarding historical United States Presidents.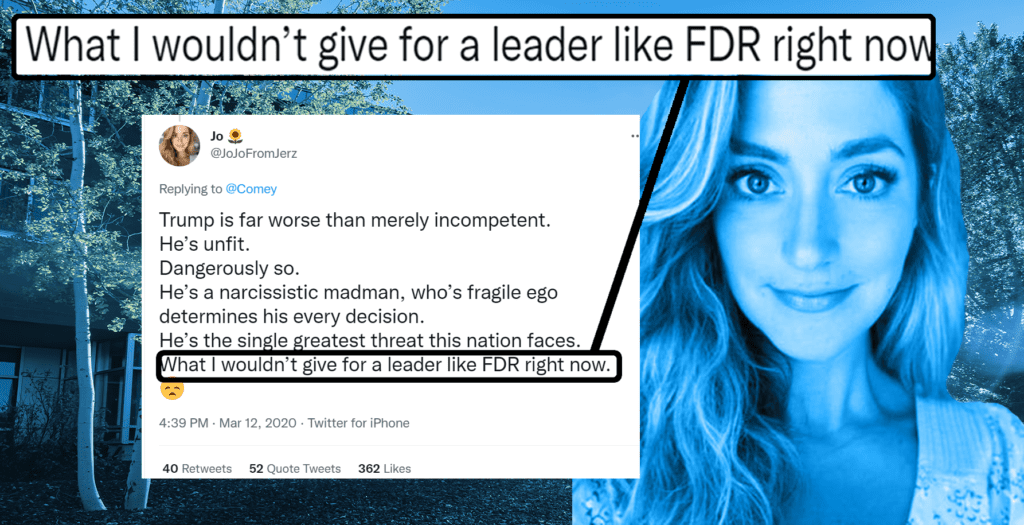 While it's nice that Jojo supports her party so staunchly, unforced errors like this sometimes happen. Numerous tweets of similar nature are out there as well, which explains the "3-star" score for "Tolerance". Just compare her to Lakota Man, who toes the line between "party" and "correct views" in a masterful way. On top of this, Jojo lacks the academic credentials needed to give her 'credibility' in the world of Blue Check Twitter, causing her "Intelligence" to also be "3-stars" as well. Certainly room to improve, JojoFromJerz is still considered as "Highly Likely to Receive a Blue Checkmark", based on our scoring system. Not bad at all, but not quite at the level of Tiedrich and Lakota man.
What do YOU think should be JoJoFromJerz' scores for each category? Using the stars below, we want you to give your honest assessment of his Blue Check candidacy. If you need to refer to the Rules and Regulations to familiarize yourself with each "Pillar", just follow this link. Also note that the ranking below each category is the user average, which will reflect your submission upon page refresh.


Be sure to check out the newest 'Verified Watch' standings, which are going to be added to the chart with each new post.