NOTE: Due to the changes made to Twitter's "Verification" system shortly after Elon Musk's purchase, we no longer need to speculate about the topic. Check out our post addressing the changes in the link here!
Similar to Major League Baseball organizations and "prospects" in their systems, certain Twitter users can be viewed as 'future stars' who have undeniable talent. For our 2nd edition of Verified Watch, we take a closer look at a guy who figures to be a prominent Blue Check at some point in the future.
Introducing Lakota Man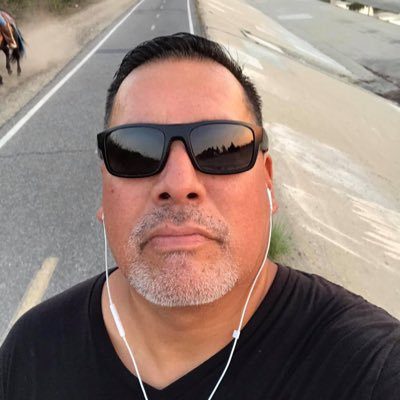 Lakota Man is a Twitter user who has been on the site since 2012, with the majority of his activity taking place in the past 5 years. While his account certainly isn't new, his ascension to becoming the leading Native American voice on Twitter is, as Lakota Man finds himself routinely getting large amounts of engagement on his tweets in 2022. With a tweet style that differs greatly from Jeff Tiedrich, the subject of our 1st Verified Watch, Lakota Man uniquely deploys a rather 'brash' tone to help make his points on Twitter dot com.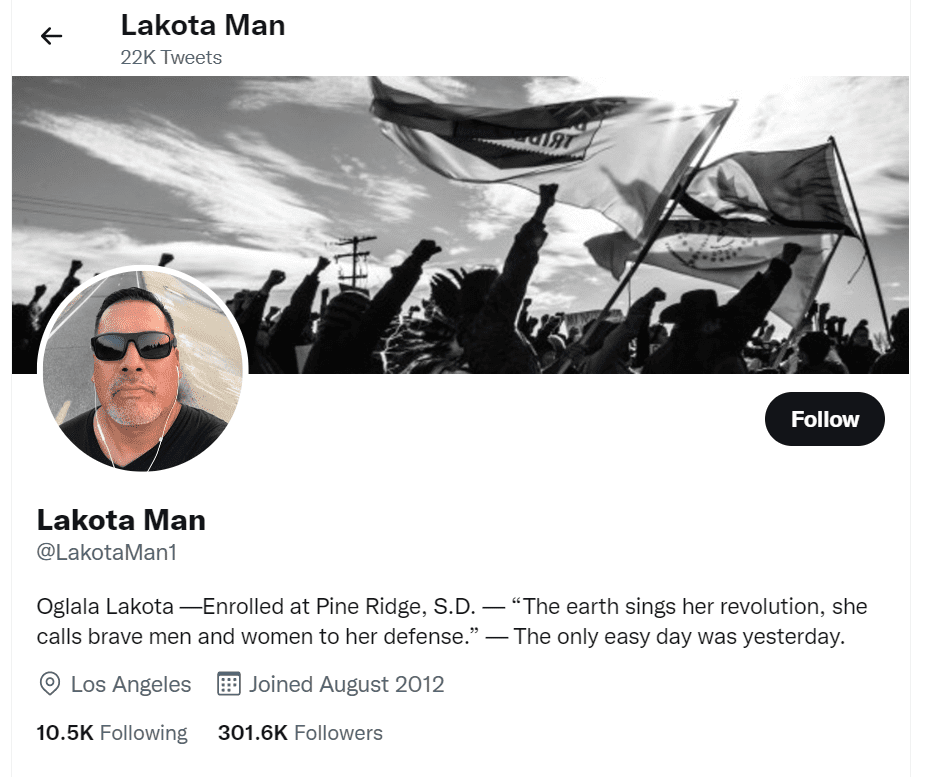 While Lakota Man doesn't give away his political leanings in his profile, his tweet activity quickly reveals a political worldview similar to Jeff Tiedrich, which includes staunch support for "center-left" causes and candidates. While Tiedrich made his views known via Trump replies, for the most part, Lakota Man will often cite examples of Native American/US History to make his points.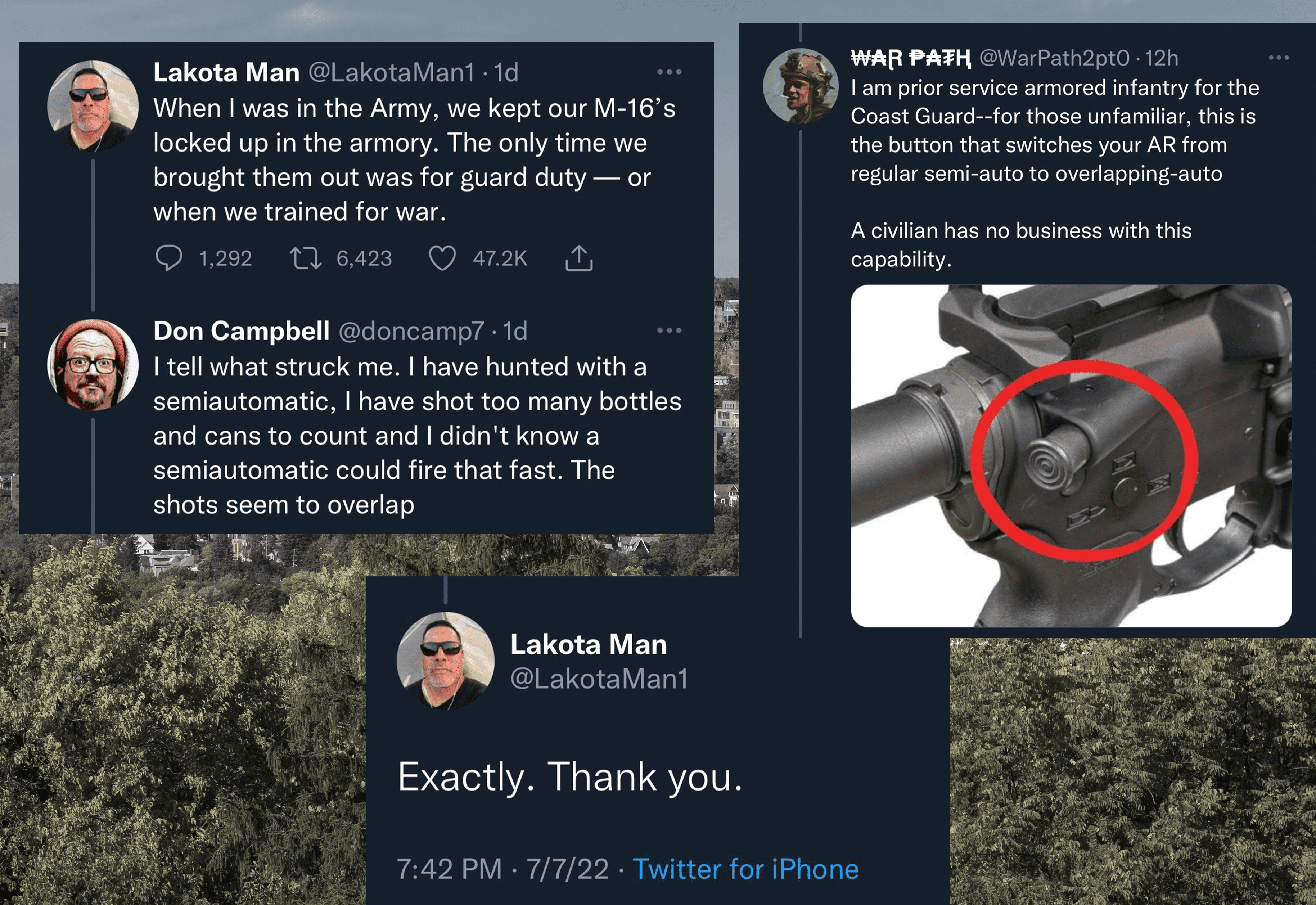 Those tweets paint quite a picture of Lakota Man, don't they? A 'jack-of-all-trades' Native American man who lives in Los Angeles and speaks on behalf of reservations, while simultaneously hating and loving the US Government on the basis of partisan politics. With the high levels of cognitive dissonance that come along with leading such a contradictory lifestyle, many prospective Blue Checks will give up on their dreams of verification. Lakota Man thrives in these situations and has even found a niche here, saying a lot about his Blue Check candidacy.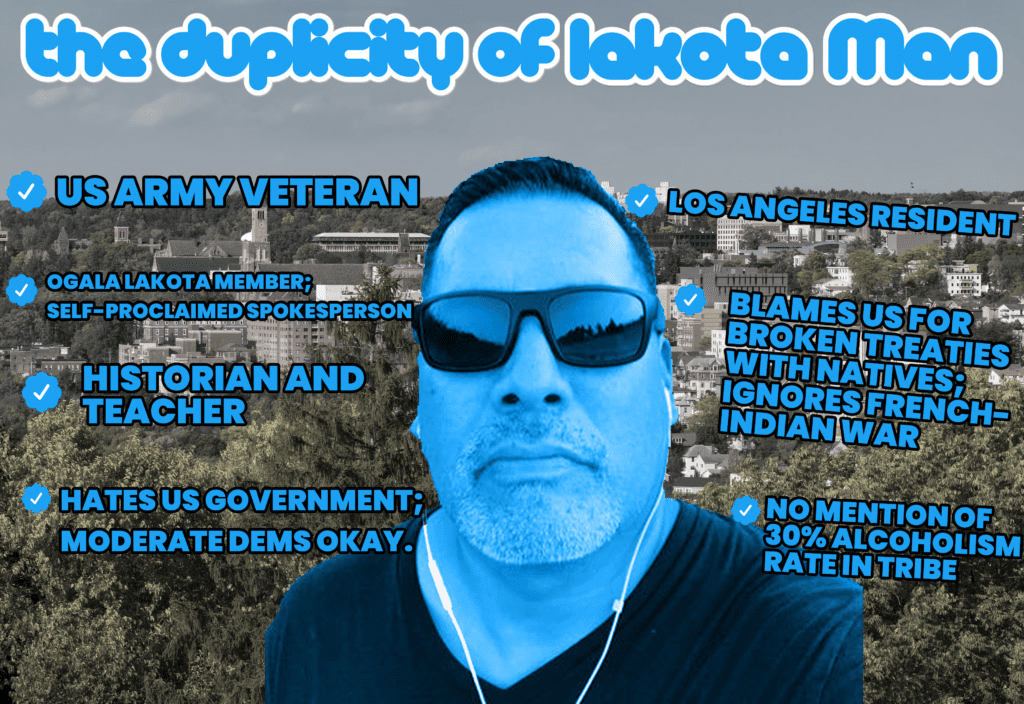 Lakota Man has even gotten some criticism from fellow Natives regarding his status as a tribe member and Native itself, something he adeptly avoids giving attention to as his Native Grift continues.
Lakota Man's "Verified Watch" Scores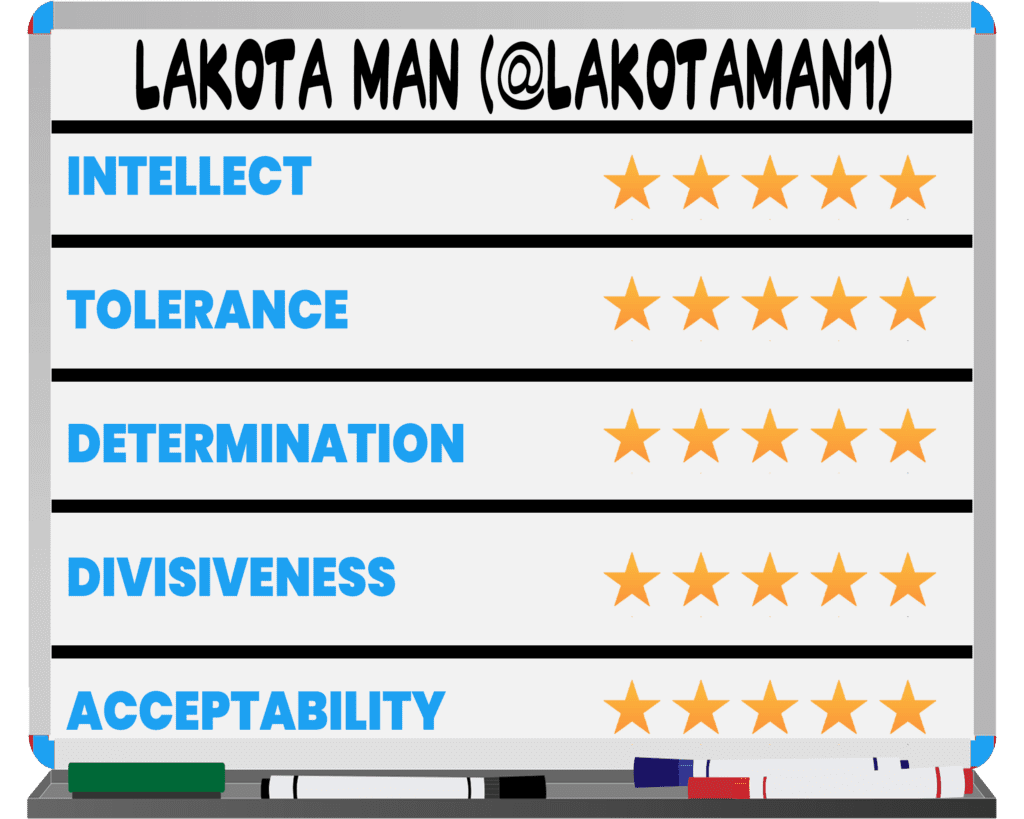 Comments and Notes:
Unsurprisingly, Lakota Man finds himself with 5's across the board, becoming the first user to attain a perfect score in our brief time doing this. And the longer you think about it, the more sense it makes. With unmatched knowledge across a multitude of topics, Lakota Man routinely antagonizes White people in his daily ramblings. If this weren't enough, his ability to seamlessly switch between a few 'roles' gives him flexibility that not many prospective Blue Checks have. Lakota Man works at his craft each and every day, allowing him to be on the precipice of verification with a perfect 5/5 score.
YOUR TURN To Score
What do YOU think should be Lakota Man's scores for each category? Using the stars below, we want you to give your honest assessment of his Blue Check candidacy. If you need to refer to the Rules and Regulations to familiarize yourself with each "Pillar", just follow this link. Also note that the ranking below each category is the user average, which will reflect your submission upon page refresh.
[yasr_visitor_multiset setid=1]