Now that things seem to be somewhat settling down on Twitter dot after the Elon Musk acquisition, it's time for some updates that reflect a large number of changes. While nothing that drastic has changed on our end, some recently-announced policies and TOS additions will impact some of the content we share. Neither entirely negative nor positive, some changes will inconvenience us as others will only make things easier. Let's run through the big ones quickly.
Changes to Twitter Blue + $8 Blue Check
Perhaps the most popular and well-documented change of the 'Musk Era', Twitter dot com has completely overhauled its 'Verification' system.  Instead of the old, mysterious methodologies that gave us access to trusted opinions like Dr. Jialun, Twitter now allows EVERYONE to gain access to a Blue Checkmark by charging $8/month for it.  A move that stained what was once an elite club, 'old Blue Checks' began incessantly whining upon hearing the news. 


Most people are aware of the details of this one so we will not bore you any longer.  With that said, thousands of 'new Blue Checks' have now entered the fraternity and will be documented on this site as well.  Most Blue Checks we shared before were nobodies anyway, so this will not be a huge change.  Just know that any and all users who paid $8 for an emoji will be featured here going forward.


With all of that being said, our recently-created 'Verified Watch' series will be officially retired, as access to Blue Checks has been opened up to the public.  While some of the posts in the series have been our most popular on the site, we are sure glad that the Blue Check Verification system is FINALLY transparent.
Reinstatement of Suspended Accounts
Another huge announcement made by Elon Musk came on the heels of two Twitter polls lasting 24 hours in length each: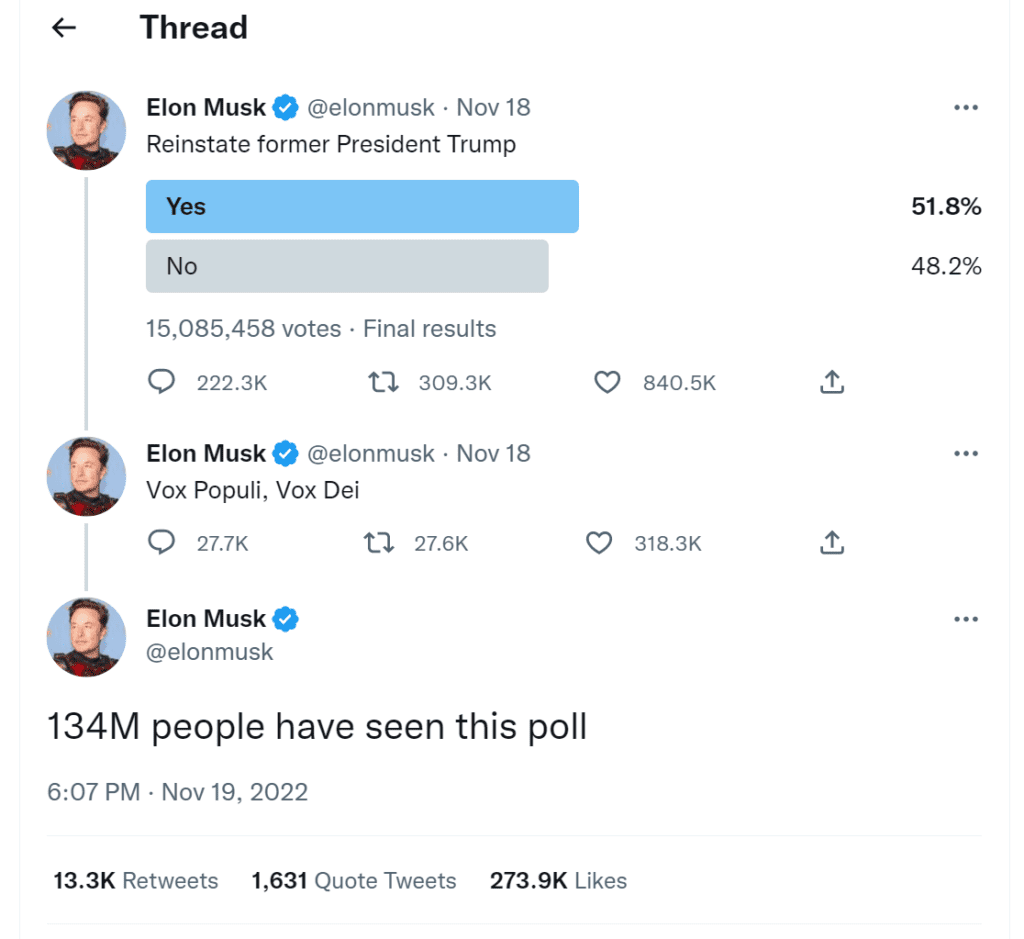 Citing the poll results that voted in favor of the reinstatement of Donald Trump and previously suspended accounts, Elon did indeed un-suspend Donald Trump's account. Nearly 2 years to the day of his last tweet pre-suspension, Trump has yet to post anything on Twitter upon being reinstated. While this news doesn't really change anything, it does mean that some 'Old Checks' will be providing us with even more content than we already had!
Blue Check Color Change
The last major Twitter change we'll discuss is one that has the MOST impact on what we do here at Blue Check U.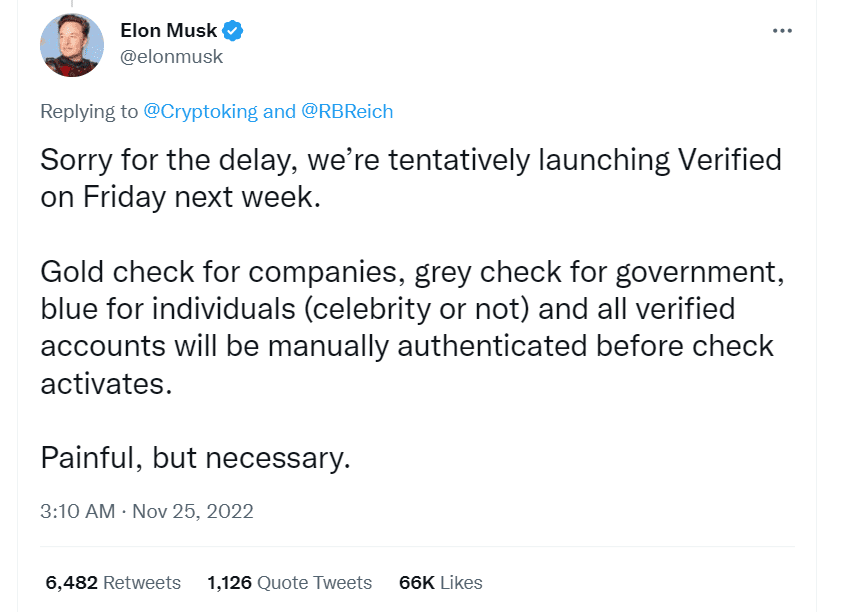 Twitter will be introducing a new system of multi-colored checkmarks that denote a particular classification of account, as you can clearly read above this. Luckily for us, "Twitter Blue" users and "Celebrities" alike are still going to have the classic Blue Checkmark. So while the content will be plentiful given the vast amount of "New Checks", entities who do NOT use a Blue Checkmark will NO LONGER be featured in new posts for the time being. It's possible that a project/feature about the other checkmarks will be in the works down the line, so we will still gather tweets from each group as usual. Any tweet featured that includes a company/organization will remain, as they were still "blue checks" at the time of upload.

Besides the new limitations on content posted in the future, the new checkmark coloration also affects our 2022 End of the Year Tournaments.  More will be discussed about this as we get closer to December 31st, but any competition or entry featuring COMPANIES, ORGANIZATIONS, GOVERNMENTS, or other non-Blue checkmarks will be removed from consideration.  This means the 'Brand of the Year', 'Org of the Year', and several others will no longer be held.  Again, more information about the voting will be shared later on.