Good day to everyone who stumbles upon this post! We're back with a post for the 2nd day in a row, as some news regarding the status of a popular Blue Check had finally made its way to our neck of the woods. While this is something that happened in late June, it's worth bringing up once again for those unaware and/or unfamiliar with the whole story. Going along perfectly with the beginning of our 'Verified Watch' series, it's time briefly explore what happens when a Blue Check is taken AWAY from a given user.
The Case of Angela Belcamino
Not unlike our buddy Jeff Tiedrich from yesterday's post, Angela Belcamino is another "left-leaning" Twitter user who has a sizeable and surprising following. Gaining a large share of their followers via "reply guy" Tweets, Angela and Jeff found themselves near the top of each Trump tweet. Unlike Jeff, who is a journalist/political guy by trade, Angela is actually an "actress" who spends her days mainly opining on current events, political views, and other topics along these similar lines. With very different tweeting styles and personalities, we provided you with some samples below to give you a brief idea of what we're dealing with.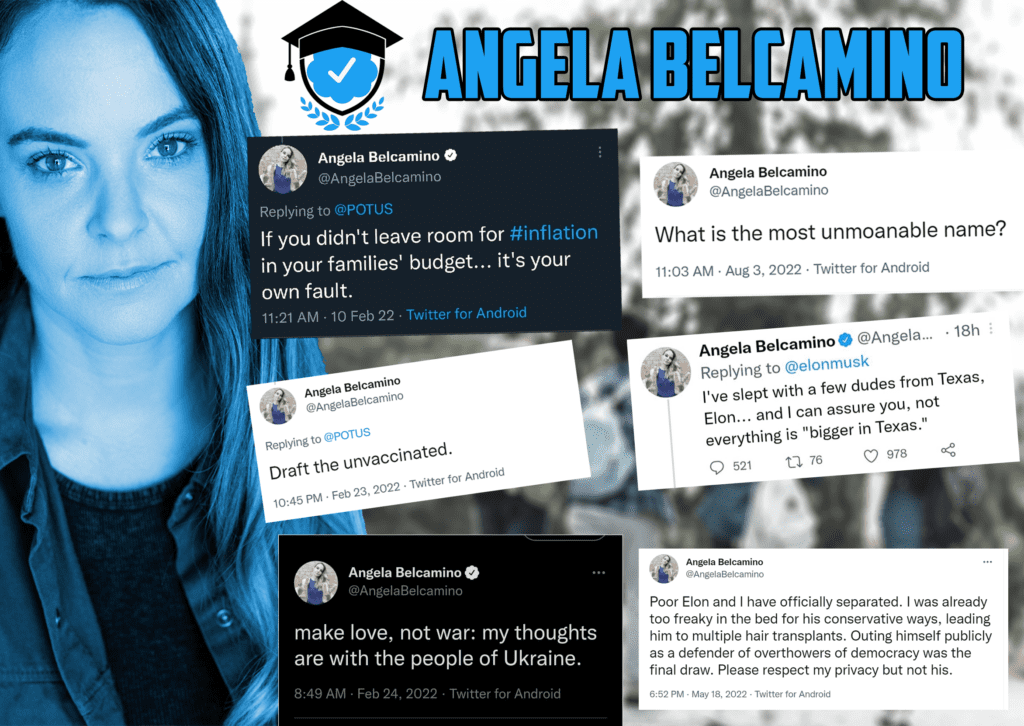 As if the Tweets and nonsense shared by her wasn't enough, Angela also found her niche over on TikTok. We were able to dig up 2 popular videos from her account back in 2020, which should give you a better idea of what she brings to the table.
As you can see, Angela is a bit of a jack of all trades. One of the hardest working "reply guys" who was able to provide content across numerous platforms, the question of Angela receiving her Blue Check was a matter of "when" and not "if". And in late November of 2021, Twitter rewarded Angela Belcamino by OFFICIALLY giving her that Blue Checkmark and the "Verified" status that goes with it.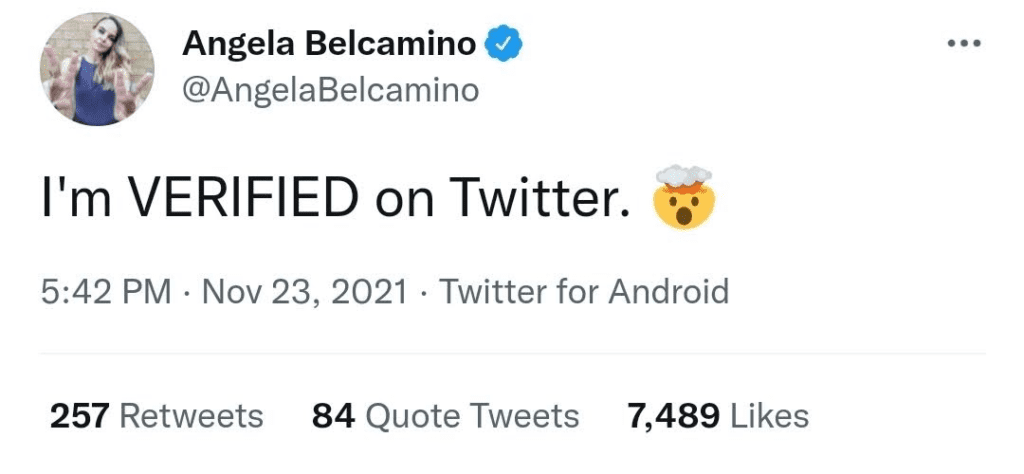 The path to Verification wasn't easy for Angela but she was finally there. The hard work paid off for her and the gravy train was off and running. She had it all figured out, just in time for the New Year of 2022 to roll around. Nothing could possibly go wrong, right?
The 2022 Blues
Angela continued to do "her thing" for the first 6 months of 2022. As you may have seen from the Tweets above, she found herself "trending" due to a series of replies involving Elon Musk. Now mind you at the time of all of this, Elon was planning on purchasing Twitter, causing anger and rage among a large number of Blue Checks. Twitter was already brewing over the news and rumors regarding the potential sale, with Musk himself only adding to that each day with new updates. Simply put, the site was dealing with chaos and we could only imagine how busy the moderation team was.


Of course, you need to factor in Angela's penchant for bad tweets and attention into this whole equation. Tweets that were remotely "spicy" would most likely result in bans and/or suspensions for us commonfolk, while Blue Checks enjoyed a bit of leeway with what they could say. Like any other person in her shoes, Angela was well aware of her "Blue Check Privilege" while tweeting controversially. And like most rational Blue Checks, she used this to her advantage in debate. Until, of course, this happened: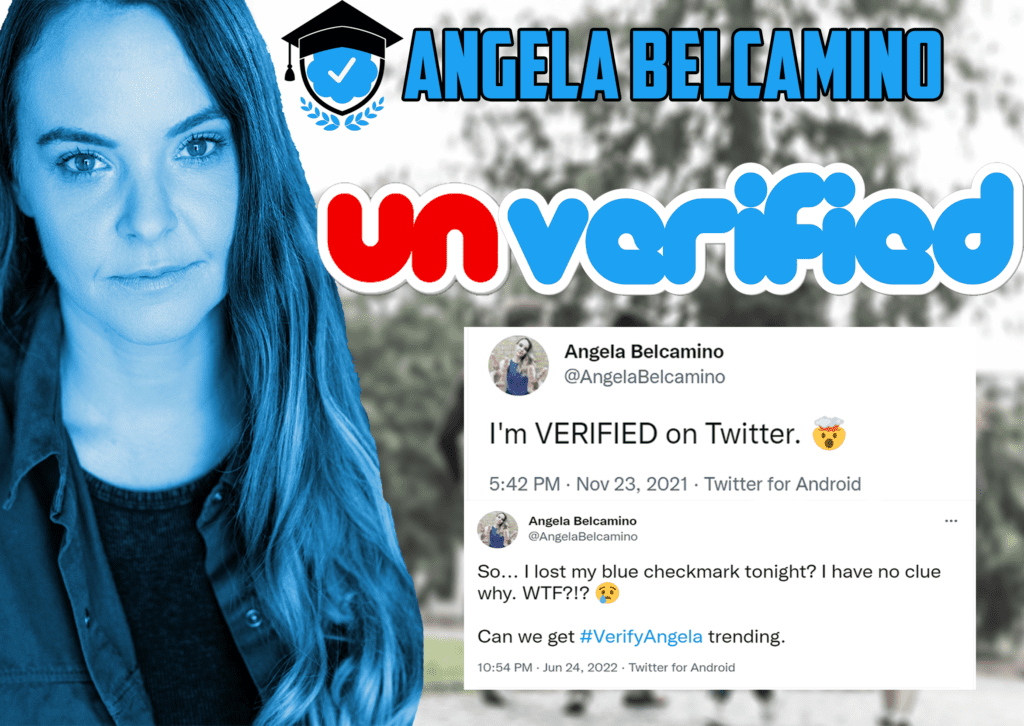 She LOST her Blue Check?? That can't be possible! Angela was a Blue Checkmark who shared highly agreeable and acceptable opinions. This HAD to be a mistake.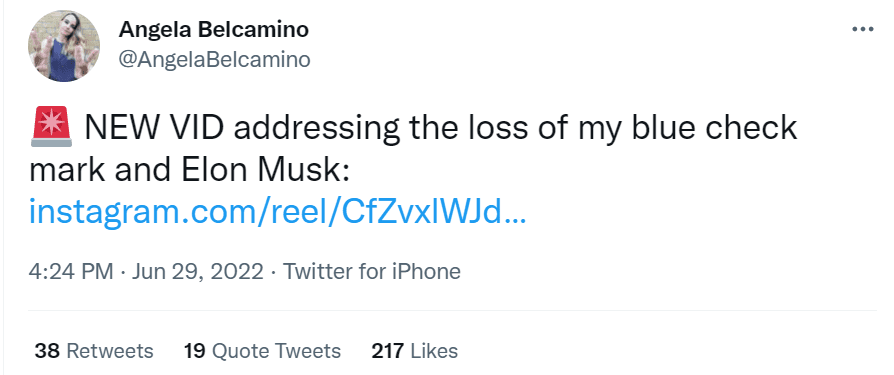 A week had passed and Angela still found herself without her Blue Checkmark, prompting her to make a video about the saga. While we didn't come close to watching that one, you could probably imagine how it would go. The bigger deal here was that Twitter stood by its decision after a week, proving that this was no mistake by them.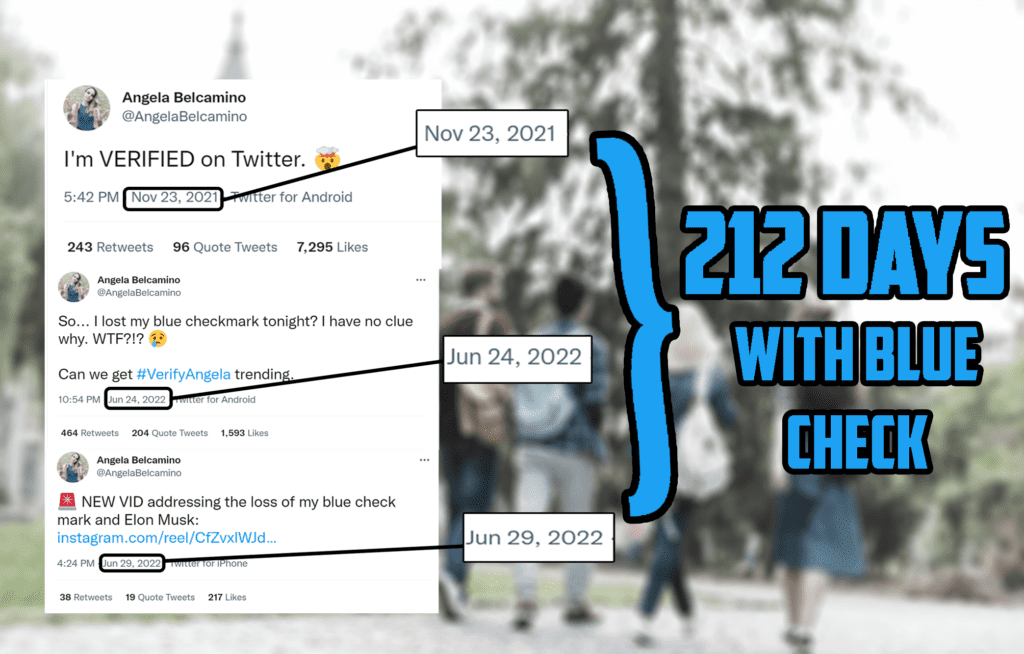 By our count, that was approximately 212 days of being "Verified" before Twitter made its decision. While that's a sizeable amount of time with the symbol, it complicates a few things for us.
The Road Ahead and 2022 Tournaments
In case you missed our Tournament Introduction for 2022, following the link will take you to the quick run-through of the various competitions we will have at the end of the year. One of those competitions is of course the Blue Check "Rookie of the Year", which seeks to crown the BEST PERFORMING "New Check". Not only did Angela qualify for the "Rookie of the Year" tournament, but she was also the HEAVY FAVORITE to win it all before her checkmark was taken.


As for now, we will have a few decisions to make regarding her eligibility going forward. We will update you with those of course, as Angela's status for the tournament is up in the air. In our brief time of covering "Verified Watch", Angela is the first "New Check" that we have seen lose their checkmark. How many other users will lose their coveted status symbol in a mysterious fashion? It's hard to predict, but we'll be keeping a close eye on the landscape!


It has been reported that Angela has since returned to acting. Playing the role of Roger in "American Dad", Angela has to put food on the table somehow. We look forward to seeing how the remainder of 2022 goes for our Blue Checks, "New Checks", and prospective Blue Checks alike!