It's time for another edition of "Blue Check Tales", so you know what that means: something dumb or ridiculous happened in the news that made Blue Check Twitter quite angry. Today is no exception to this, as we will be heading BACK to the wild world of professional Sportsball to begin today's "tale". As you may recall, our previous "tale" involved the MLB's Colorado Rockies and their popular mascot "Dinger". While the happenings of today are quite different than what Dinger + the Rockies had to deal with, a common theme between the two certainly does exist. With that being said, let's get right into "Blue Check Tale #3", shall we?
"Feudin' With Gruden"
Our tale today involves a name that may sound familiar to many of you: Jon Gruden. A head coach in the NFL during the early 2000's, Jon perhaps gained mainstream popularity with his commentating on Monday Night Football during the late 2000's and 2010's. Known for his unique phrases and sayings along with his eclectic personality, Jon would eventually return to the head coaching ranks in the NFL in 2018, by accepting an offer to become the HC of the Oakland Raiders (again). This is the position that he continues to hold to this very day, with his team having some success to begin their 2021 season. Seemingly out of nowhere today, things would change rather quickly.
A Journalist Has "Breaking News"
Unlike the first two "tales" we shared, this one actually begins with a tweet by a single journalist.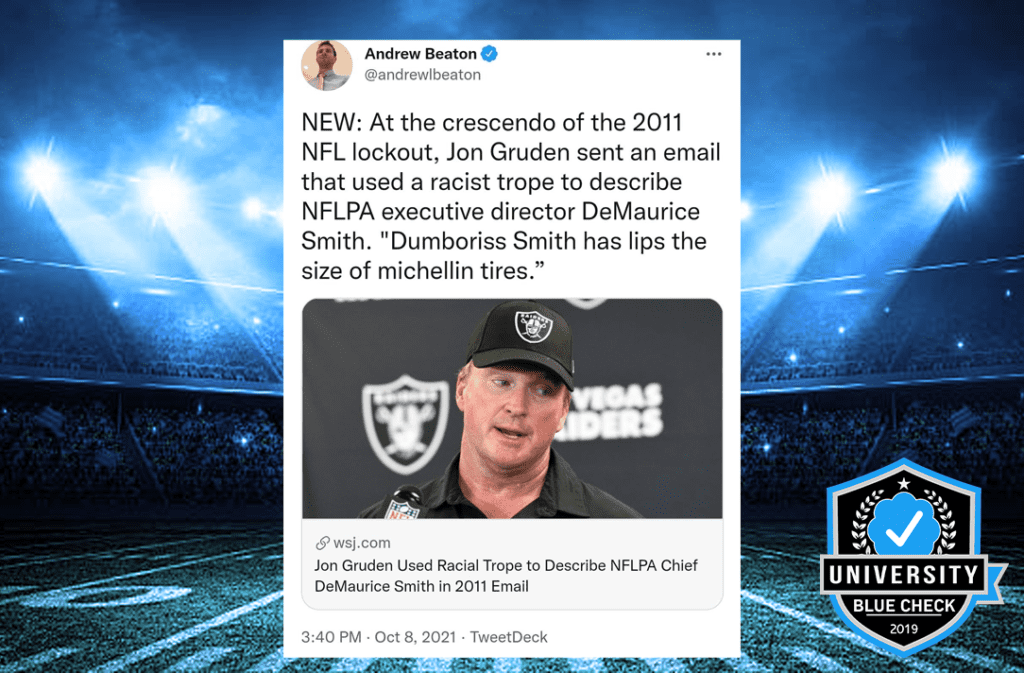 "Andrew Beaton", someone who we like to consider an "anonymous Blue Check", tweeted this out in the mid afternoon. Seemingly out of "nowhere", the tweet was the beginning of a thread shared by Andrew regarding a very important "news" story.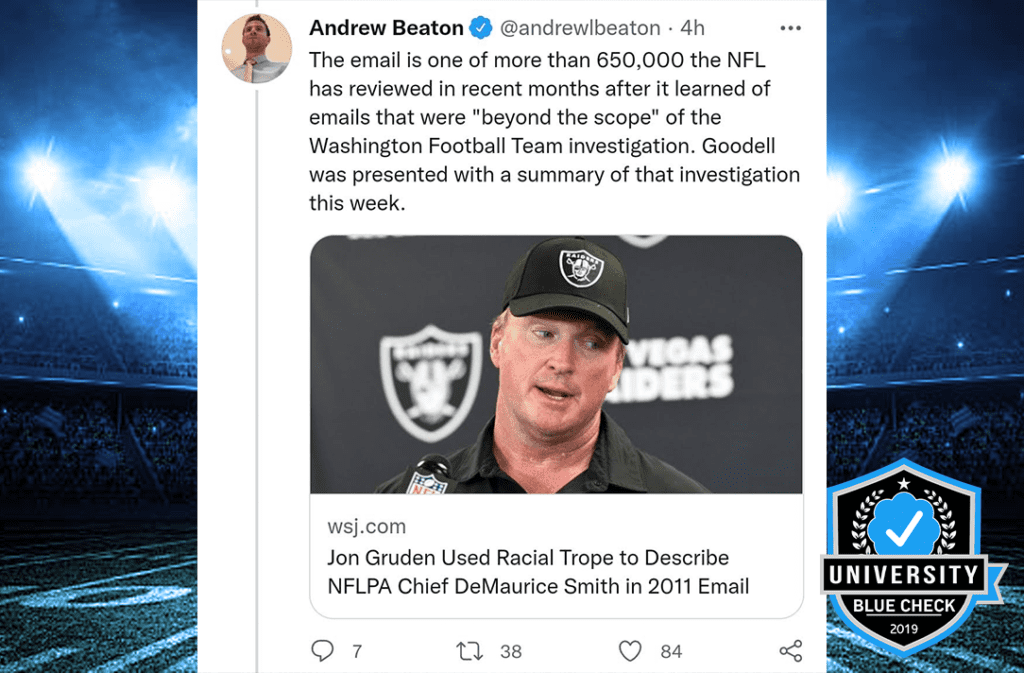 While we won't include the whole thing, you can probably imagine what the rest consisted of. Let's take a closer look at the key parts of this story, shall we?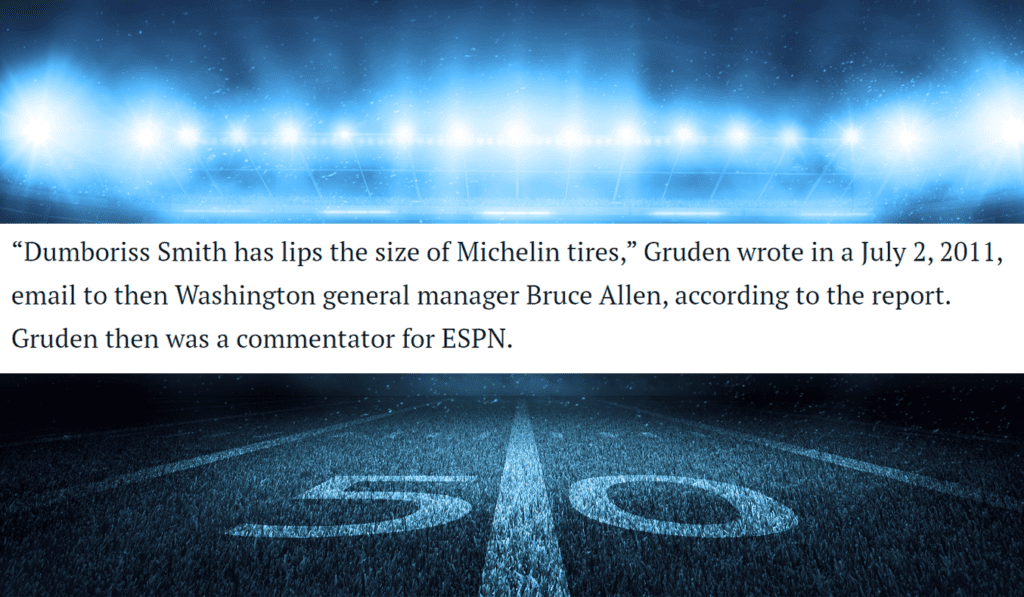 This was the focus of the e-mail in question, which begins with Jon Gruden calling the head of the NFL Player's Association DeMaurice Smith, "Dumboriss Smith". He then goes on to compare Smith's lips to "Michelin tires", closing out a rather bizarre e-mail that was sent to the former GM of the Washington Redskins. The timing of the e-mail is also interesting, as it was written in 2011 and was strangely recovered 10 years later out of the blue. Also keep in mind that Jon Gruden was NOT coaching in the NFL at this point in time (2011), as he was calling Monday Night Football games on ESPN instead.


A weird e-mail exchange for sure that was compounded by the even-weirder timing of release by the unknown journalist. Not a big deal, right?
A HUGE Deal
Let's quickly revisit the first Tweet by Andrew Beaton listed above, just in case you may have missed something he said.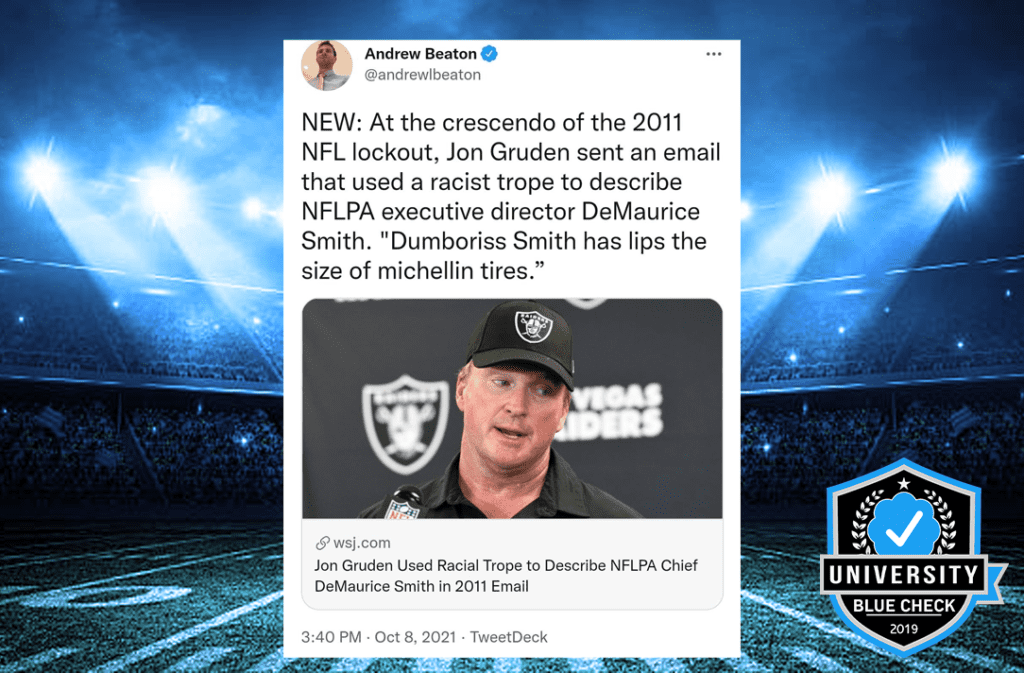 Andrew Beaton describes the leaked e-mail as a "Racist Trope" directed at DeMaurice Smith. A "Racist Trope". Hmmmmm. Maybe we are just missing something, but this is a curious depiction of the exchange. Let's double check some definitions really quick.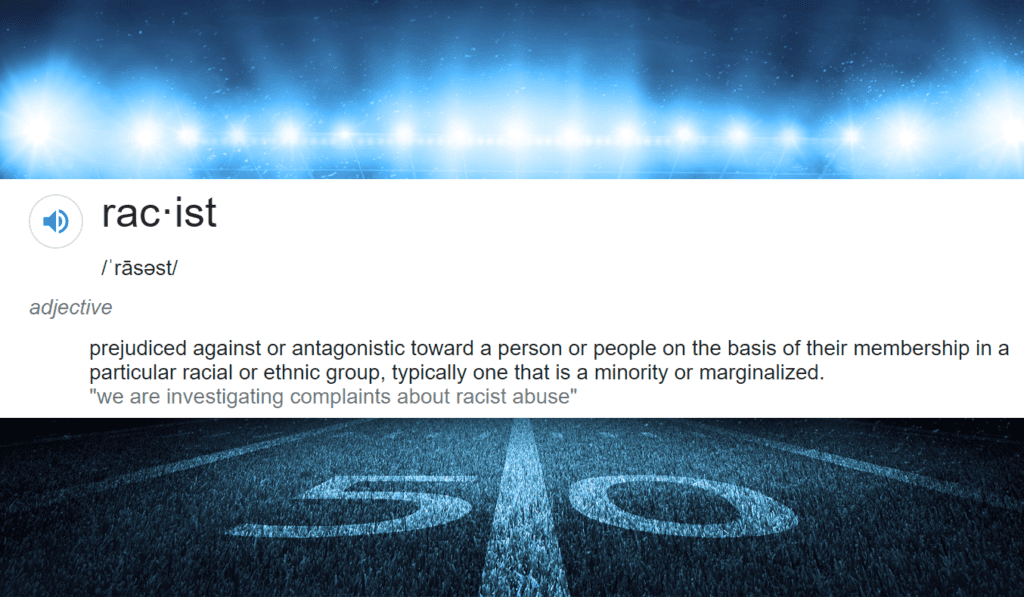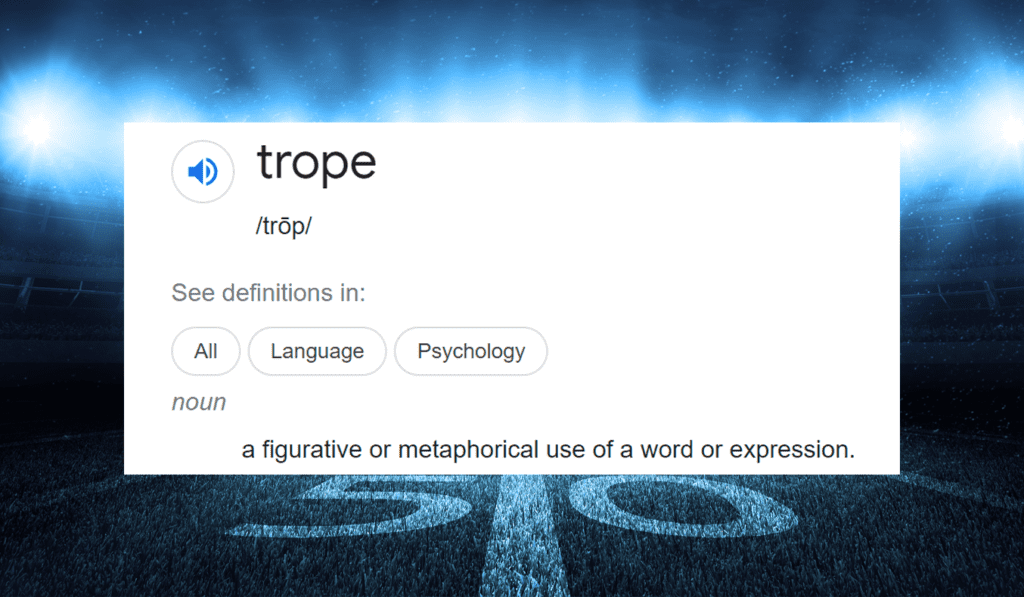 Ok, got it. Nothing new with either of those definitions. Maybe we read the e-mail wrong?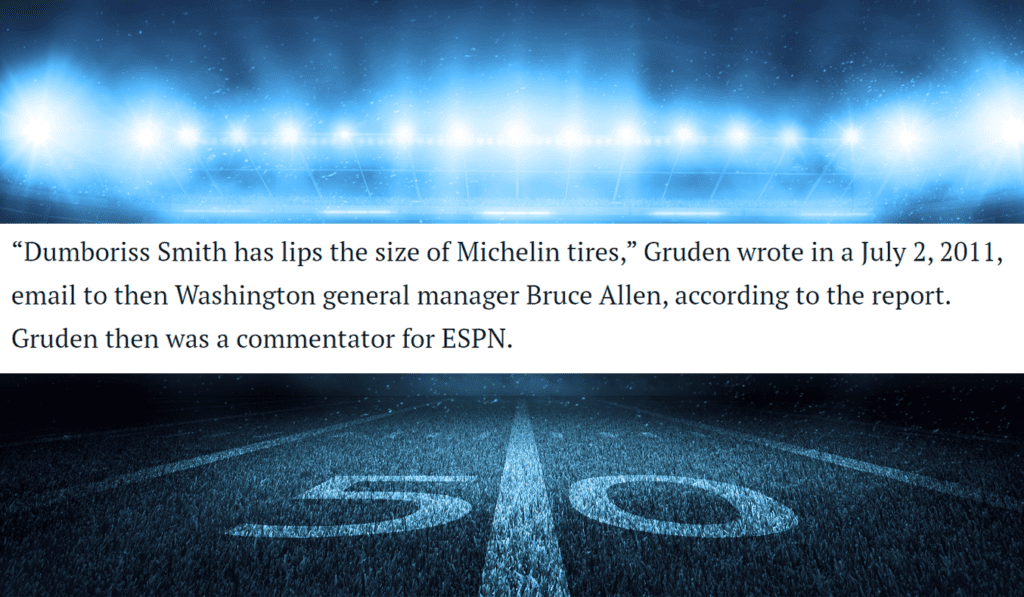 Nope. Didn't miss anything there either. Maybe Andrew simply misspoke or used the wrong phrase in his original tweet. Mistakes happen to the best of us, right? Surely the other Blue Checks will have a good laugh at this one.
The Blue Checks Respond
Word of this tweet and thread began to spread rather quickly among Blue Check Twitter. Their response to hearing the story? Let's take a look: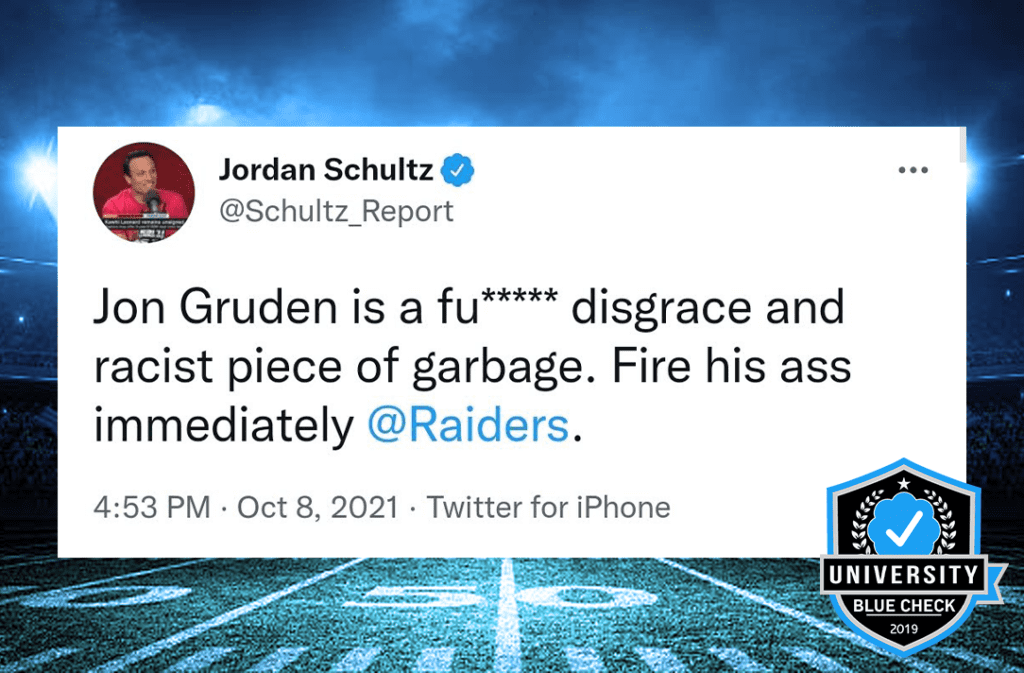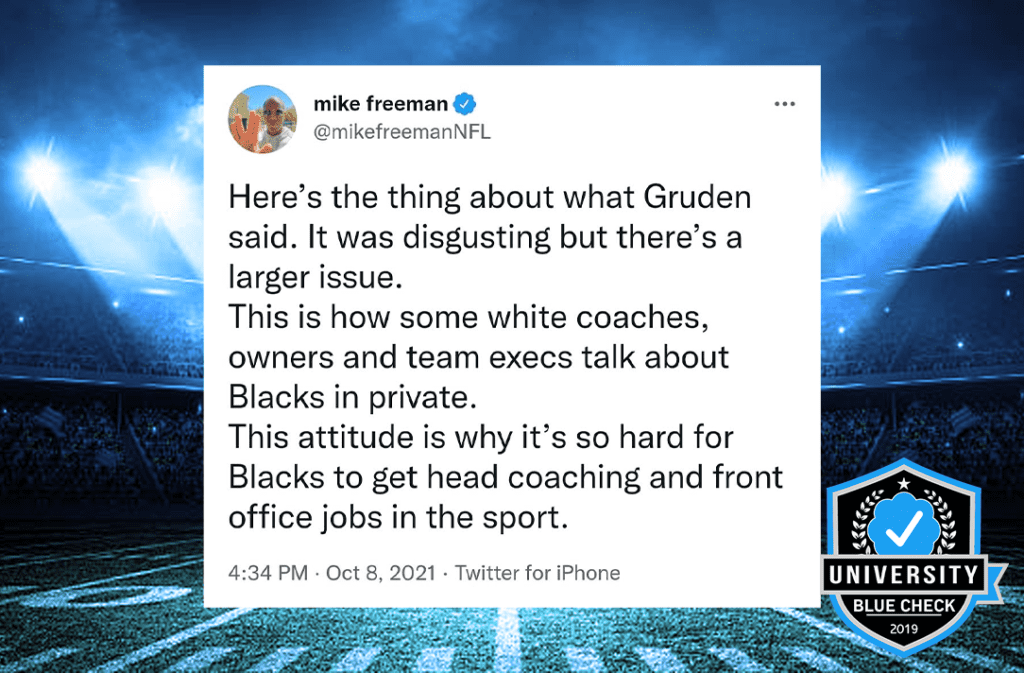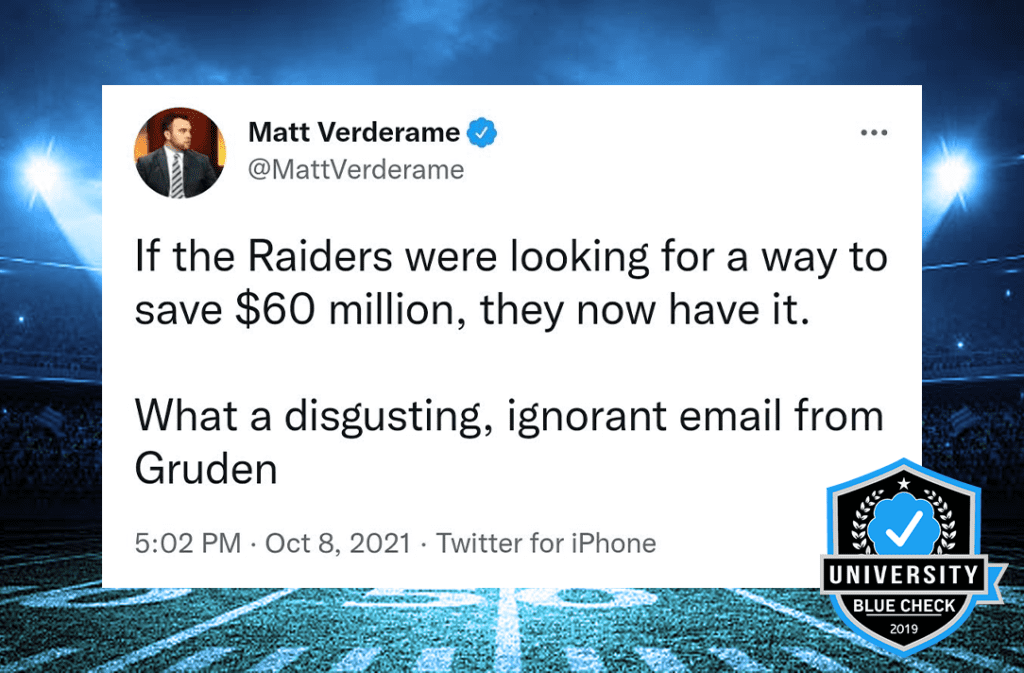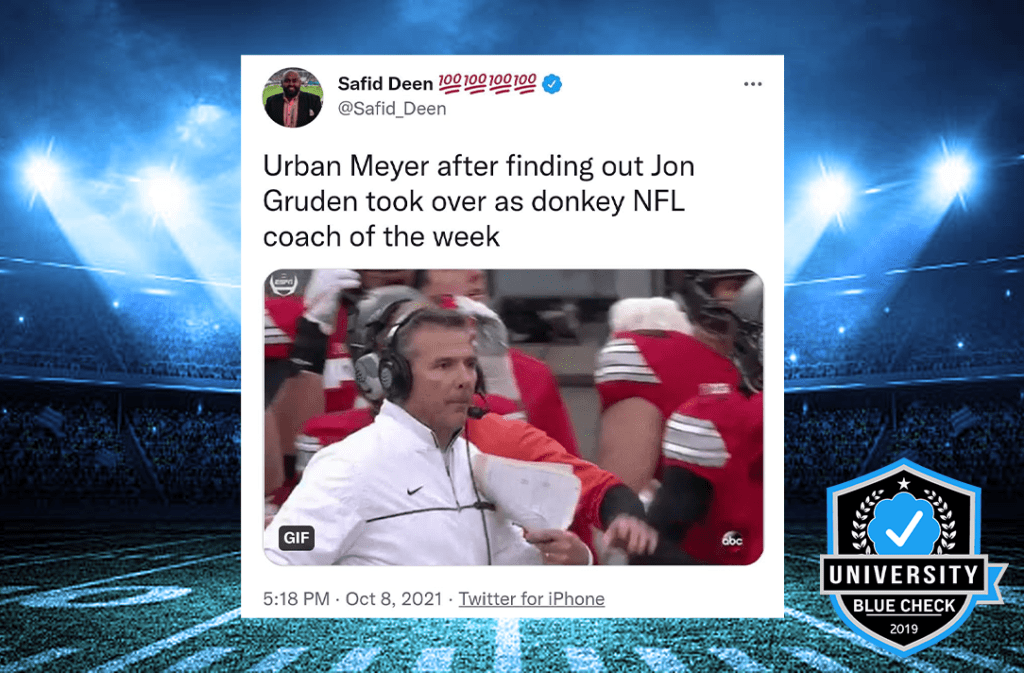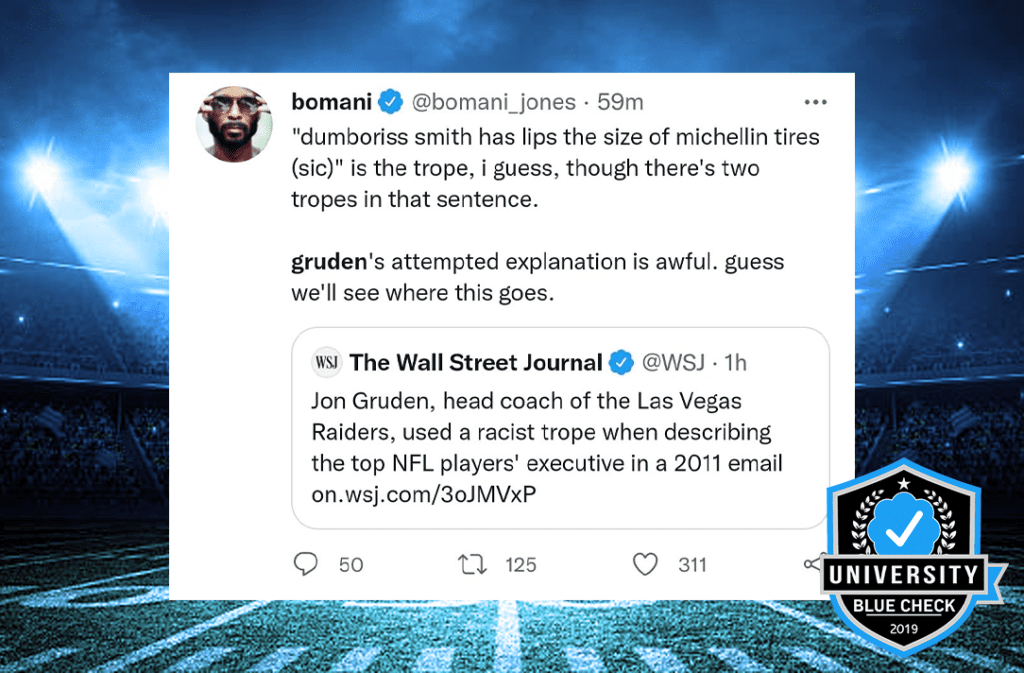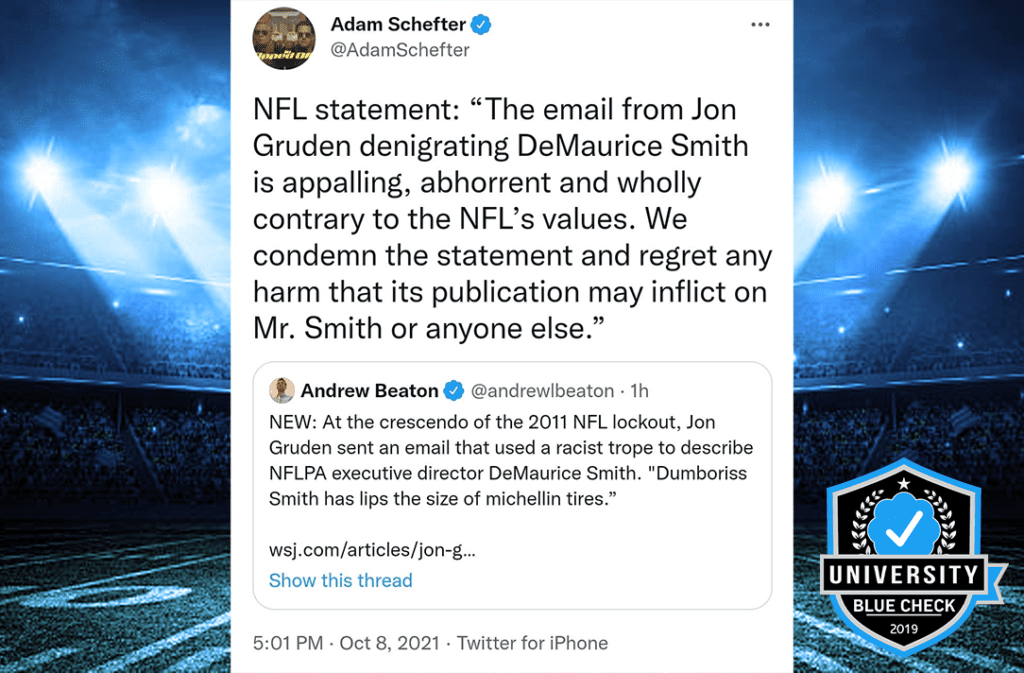 Ok….what in the hell is going on? Almost in unison, Blue Check journalists, Sportsball personalities, and mainstream media outlets, began parroting the same exact talking points that we were unclear about above. Mind you, these were only A FEW of the many similar reactions we noticed (You can read the ones NOT featured in the post at the bottom of the page). After seeing the public outcry involving the "R" word, the team that employed him had to get involved, naturally.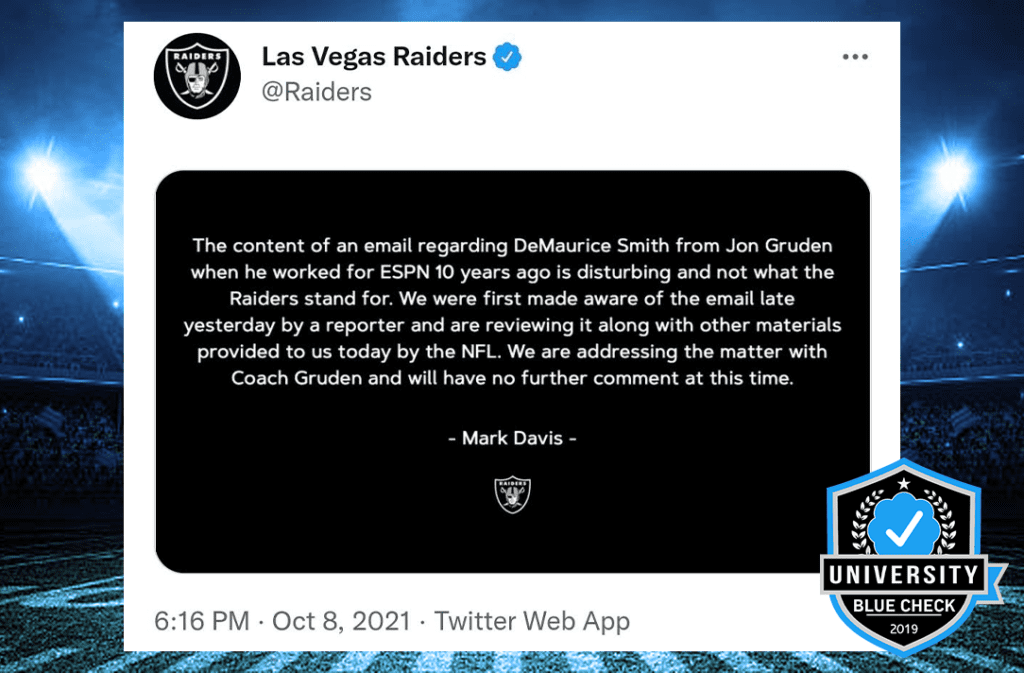 WHAT THE HELL IS GOING ON!? We went from reading a leak of a goofy email written 10 years ago, to this. All within the span of a few hours. How did all of this happen!?
Back to Reality
Ok, that's enough of the "intentionally obtuse" act of ours. While that style we were wrote the previous section with probably wasn't convincing, there's a method to the madness. Now we ALL know exactly what's going on here; at least for the most part. Gruden calls Smith a Boomer-tier nickname and makes a strange metaphor about his lips. Blue Checks, who are only able to view things through the lens of race, naturally determined that the remarks HAD to be because of his race. And from there, the beat went on.


It's not even worth discussing how statements like that are simply not "racist", because you put the ball in their court by even humoring such ridiculous nonsense. On the flip side however, it's funny to consider the fact that insults involving "lip size" and calling someone "dumb" are instantly met with accusations of "racism". Some would call it ironic, but we simply call it "being a Blue Checkmark". Par for the course.
Why TODAY of all days?
Let's discuss a little more about the TIMING of this whole snafu. As mentioned before, the entire story centers around an e-mail exchange that took place 10 YEARS AGO! Why would this story be leaked on October 8th of all days?


While we can't say anything with 100% certainty here, it's worth pointing out a few interesting "coincidences" that are also at play. Let's start with something that was tweeted out YESTERDAY, before ANY of the aforementioned tweets and information was made public.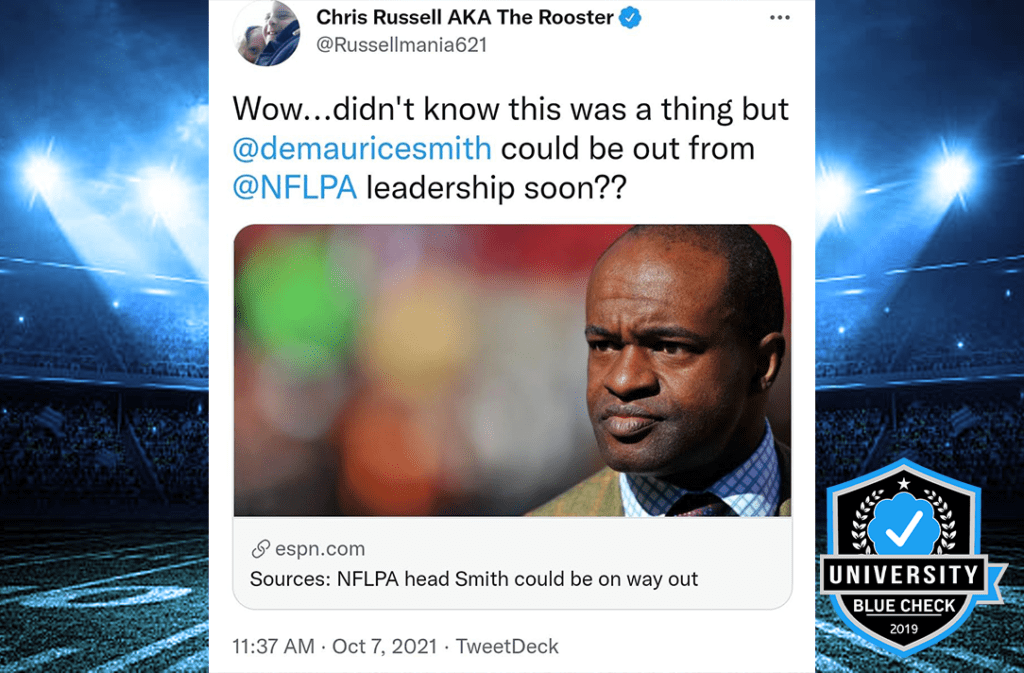 It begins with rumors that DeMaurice Smith was on the verge of losing his position as head of the NFLPA due to a variety of reasons. Above, many felt that he was doing a poor job in the position he has held for over a decade. An interesting study involving agents of NFL Players reveals a lot of animosity between them and Smith himself. Only 10% of agents believed he was doing a good job, which is alarming coming from a group who also represents the interests of the players.



Some columnists go as far as blaming Smith for what they believe is "lousy football". Even the players themselves have a problem with Smith, as is the case with Marlon Humphrey, who believes that he "favors ownership" over the players he represents. These are three of many articles out there that are critical of the job performed by Smith as NFLPA Head. Simply put, he is not the most well-liked guy.



So why does any of this matter? The tweet above seems to be stating the obvious and this has nothing to do with the news today. Based on everything we JUST told you, think to yourself for a second. Now, go ahead and take a WILD guess about what "important" event also took place on October 8th (a Friday).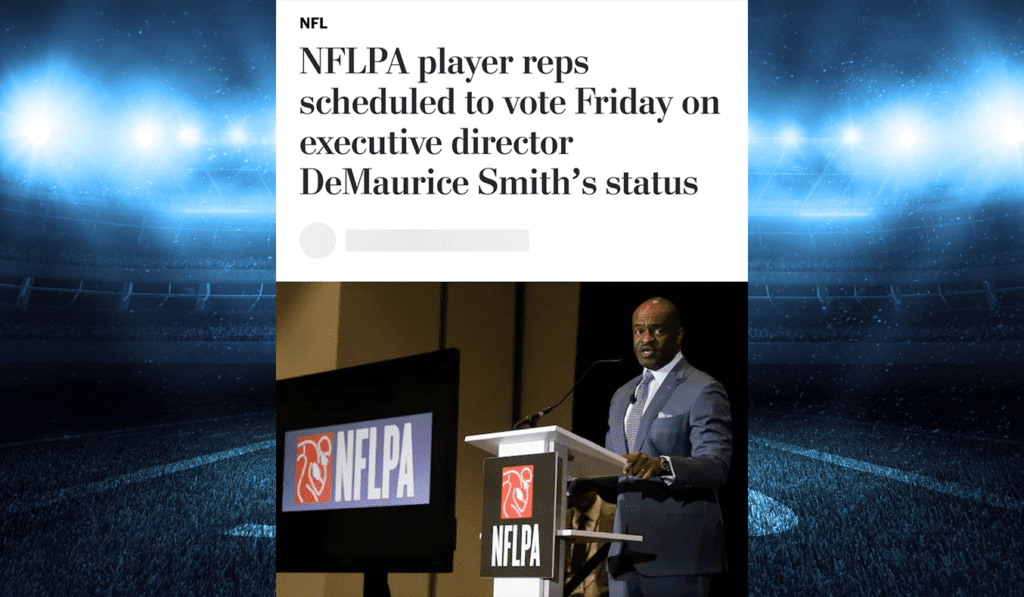 YOU DON'T SAY!? What are the odds of this happening on the SAME DAY as a 10 Year old email about him is released to the public? For those keeping track at home, the Gruden email leaked in the afternoon, while the vote was scheduled to take place in the evening. But hey, none of this matters anyway, right? Clearly he isn't going to be voted for another "term" in his role.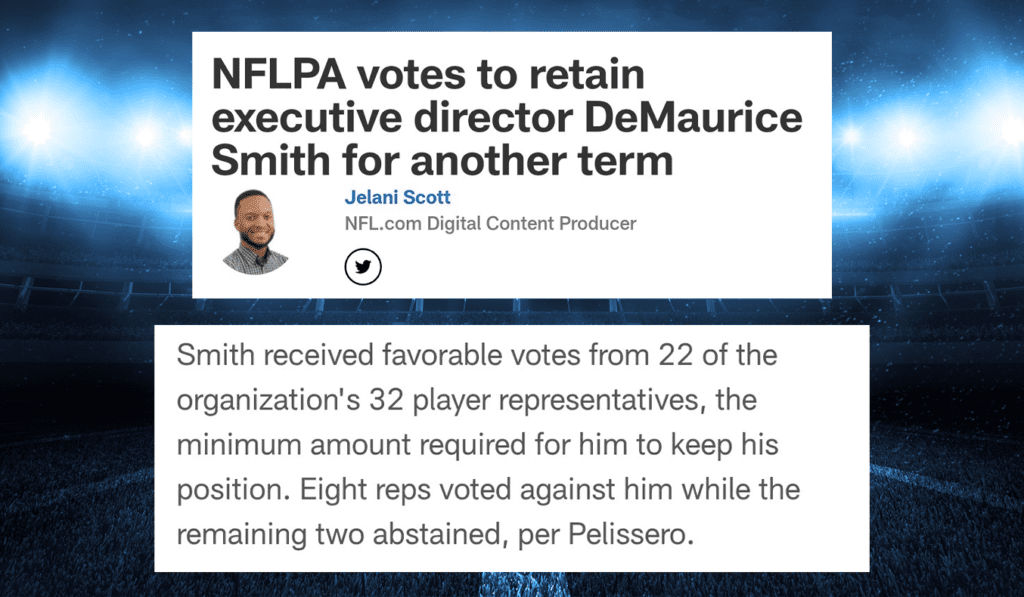 YOU CAN'T MAKE IT UP!! On the day a so-called "racist" e-mail about him from 10 years ago was released, it just so happens that the guy wins re-election to his position by the MINIMUM AMOUNT! Is this a series of pure coincidences? Was this orchestrated from the top-down, including enlisting the help of Blue Check journalists willing to spread a lame narrative? Or maybe somewhere in-between? Whatever it is, it's definitely a good way for us to close-out this particular "Blue Check Tale".


With that being said, that concludes this latest edition of "Blue Check Tales". A bit different than the others, we hope you enjoyed the latest saga involving Blue Check Twitter. Be sure to check out the gallery below that contains some of the tweets NOT featured above in the post! Check back later, as the gallery will be updated with any additional tweets not posted originally.